Joel Goodson is the main character played by Tom Cruz in the "Risky Business" movie. Talking about Joel Goodson's costume in Risky Business movie, he has worn a variety of costumes throughout the film. He has constantly changed his costumes in Risky Business movies but some costumes are funny and surprisingly very stylish till now. In this post, we have included the famous Shirt and Underwear costume which looks fun when cosplayed with friends.
Risky Business Costume Guide
Costumes from Risky Business are very easy and simple, just buy the things of your size and wear it! no stitching no cutting.
Joel Goodson's Underwear and Shirt Costume
Shirt: Buy the Pink shirt from above and wear it without any sweatshirt. If you have any plain colored shirts in your wardrobe you can wear that also. It is up to you.
Underwear: Wear fresh white underwear for the costume. If you do not have any white underwear with you then you can get it from above recommended underwear for this costume.
Socks: Wear white socks and if you are going out to a party also wear white shoes on it.
Candle Holder: Get and a candle holder and you are dressed as Joel Goodson from Risky Business.
Joel Goodson's Goggles and Coat Costume
Black Shirt: Wear any black shirt from your wardrobe or buy a new one for this costume.
Casual Coat: Get a gray casual coat as seen in the movie worn but Tom Cruise.
Jeans: Wear a Blue colored Jeans Pant on it.
Black Googles: Get Black Goggles to complete this costume.
Lana's Costume
Lana was Joel's lover from Risky Business.
T-shirt: Get a pink striped t-shirt similar to what Lana wore in Risky Business. (It was difficult to find but we got you the closest one)
Jeans: Get a pair of blue colored jeans pant similar to Lana's to complete the costume.
Risky Business Costume Ideas
---
Risky Business is a 1983 American teen comedy written and directed by Paul Brickman (his directorial debut) and starring Tom Cruise and Rebecca De Mornay. The film covers topics such as materialism, the loss of innocence, adulthood and capitalism. Known as Cruz's main film, "The Risky Business" was a critical and commercial success, grossing over $ 63 million on a $ 6.2 million budget.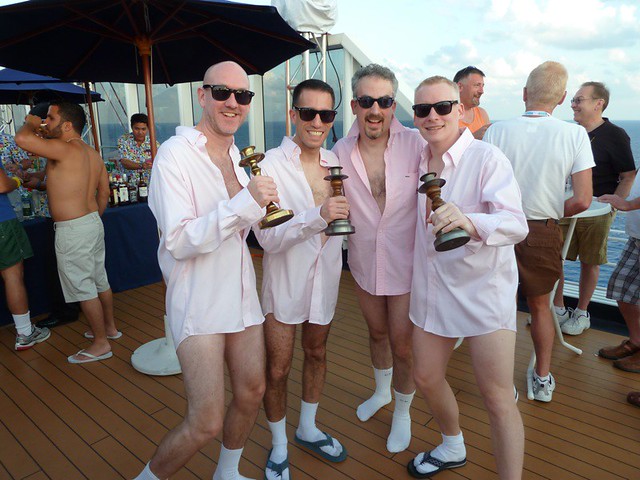 We are sorry that this post was not useful for you!
Let us improve this post!
Tell us how we can improve this post?