Last updated on August 2nd, 2023 at 10:35 am
---
Ted Lasso (Jason Sudeikis) is one of the main character in the TV show named "Ted Lasso". This TV show is an comedy Drama series. The series was first released on 14th of August 2020. The show got instantly popular and people from USA and UK loved it. The story revolves around an American coach named Ted Lasso who is hired to coach a British football team. Ted do not have any knowledge of British football but he has a great sense of optimism. The show has many sarcastic and funny scenes and people love watching it. Ted was originally hired as a coach by Rebecca to take revenge on her ex-husband. But when Ted Lasso started to coach his soccer team at first he struggled to manage the team but later due to his optimistic head and eager to be successful he begin to win over team members, Rebecca and all the other around him. Later in the show everyone got impressed by his Humor, charm, personality and his hard work. Ted also suffers from bad relationships with his life partner during his journey in the series. He struggled to manage his emotions during his marriage breakup but, because of his optimistic nature he withstood that too. Learn more about Ted Lasso here.
Ted Lasso Costume Guide
Ted Lasso costume is a great idea for this Halloween season. Ted Lasso mostly wears two costume when he is on his coach duty. His costume includes a blue-colored shirt, a blue colored sweatshirt with his team logo, light khaki colored pants, a mustache, and a pair of red-colored shoes. The other costume includes a visor, a mustache, a whistle, jacket and pants, a sunglasses, and a pair of Nike shoes.
Ted Lasso's Shirt
Wear this blue-colored shirt inside the sweatshirt. If you already have one with you, use that one.
---
Ted Lasso's Sweat Shirt
Get this blue-colored sweatshirt with team logo and wear it above the blue-colored shirts.
---
Ted Lasso's Pants
Wear this light khaki-colored pants as seen wearing by Ted Lasso in the series.
---
Ted Lasso's Mustache
Get this mustache which looks similar to Ted Lasso's mustache.
---
Ted Lasso's Shoes
Get this pair of red-colored Nike shoes to complete the 1st Ted Lasso costume.
---
Ted Lasso's Visor, Mustache, Whistle, Jacket and Pants
Get this complete set of Ted Lasso costume which is matched perfectly with the character's costume.
---
Ted Lasso's Sunglasses
Wear this black sunglasses similar to what Ted Lasso wears in the series.
---
Ted Lasso's Shoes
Get this pair of Nike shoes which looks similar to what Ted Lasso wore in the TV show.
Ted Lasso Halloween Costume Ideas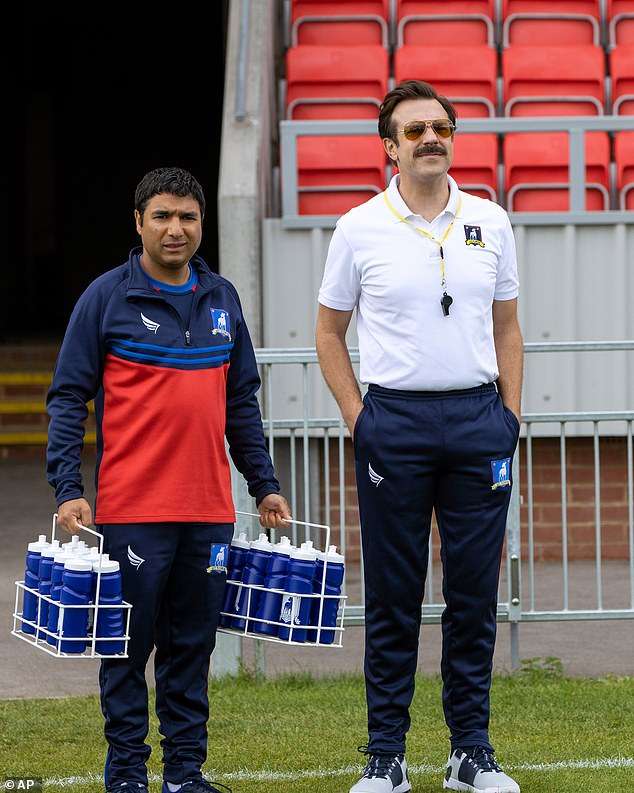 Source: stylegirlfriend.com
'Ted Lasso' is the Best Halloween Costume for Guys This Year
Source: www.jacketars.com
Ted Lasso 2021 Jason Sudeikis Satin Blue Jacket | Ted lasso 2021 Jacket
Source: irradiadiversiooon-web.blogspot.com
Ted Lasso | irradiadiversiooon-web
Source: yunahasnipico.pages.dev
Ted Lasso Halloween Costume Ideas - Diy Superhero Costumes | yunahasnipico
Source: redtri.com
The Most Popular Halloween Costumes for Kids in 2021
We are sorry that this post was not useful for you!
Let us improve this post!
Tell us how we can improve this post?
Become a part of our vibrant community by sharing your unique costume image and inspire others with your creativity! Click Here