Last updated on September 26, 2023 2:53 am
---
Arya Stark, a character from the popular television series Game of Thrones, is a resilient and independent young woman who captured the hearts of audiences worldwide. Created by George R.R. Martin and brought to life by actress Maisie Williams, Arya is a complex and intriguing character whose journey throughout the series is filled with growth, transformation and a fierce determination for survival.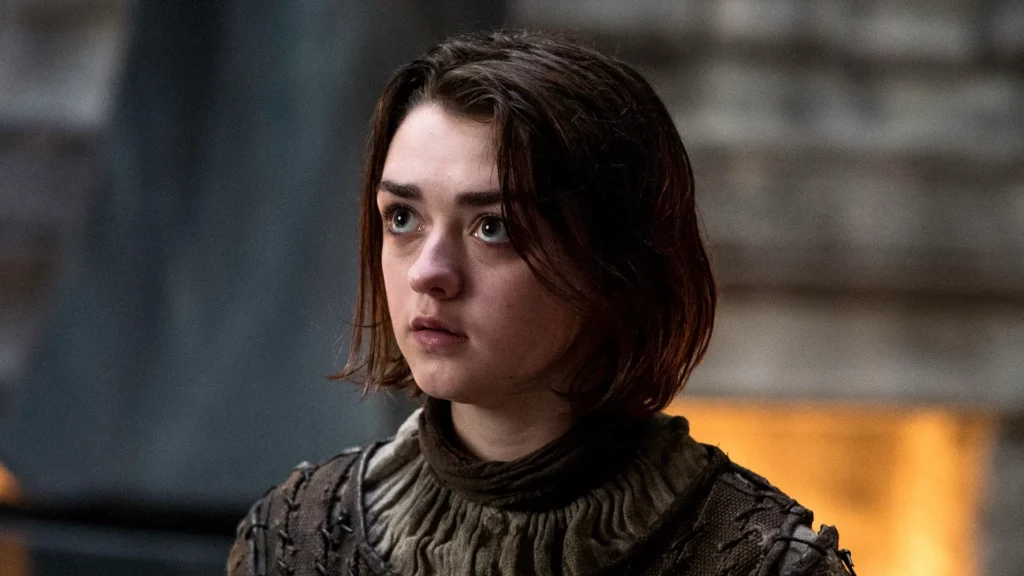 Born into House Stark, one of the noble families of the fictional realm of Westeros, Arya initially defied traditional gender roles and societal expectations. She rejected the notion of becoming a proper lady, favoring instead the skills typically reserved for boys, such as archery and swordsmanship. Arya's unconventional interests and rebellious spirit set her apart from her siblings, making her a source of both admiration and concern within her family.
As the series unfolds, Arya finds herself caught in the midst of political turmoil and war. Witnessing the brutal deaths of family members and enduring personal hardships, she becomes resolute in her pursuit of justice and vengeance. Arya's journey takes her on a transformative path, as she seeks training and guidance from various mentors to develop her combat skills and survival instincts.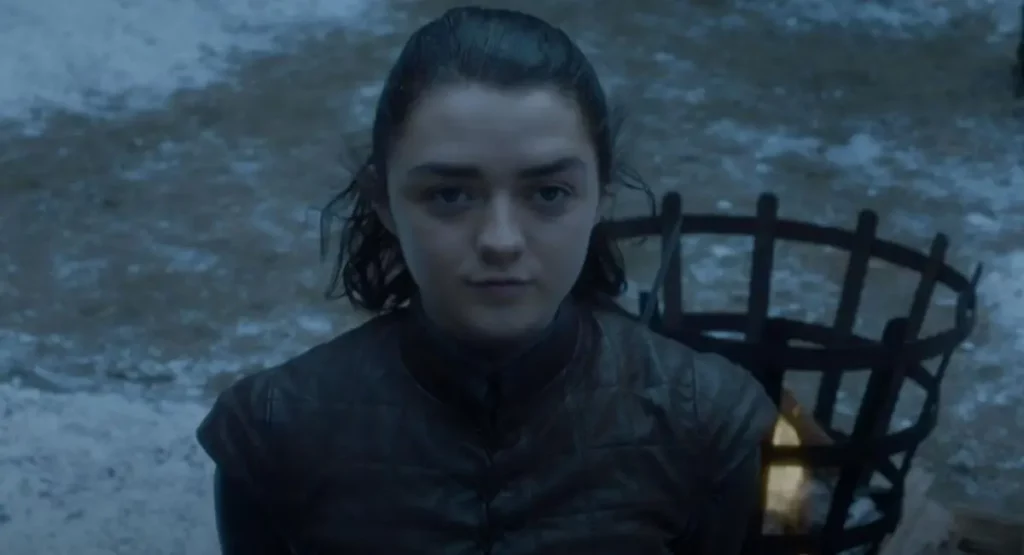 One of Arya's most defining characteristics is her unwavering determination. Despite facing numerous challenges and obstacles, she refuses to be determined by her circumstances. Arya's journey becomes a testament to the strength of her character as she endures physical and emotional pain while adapting to the harsh realities of the world around her.
Throughout her arc, Arya's experiences shape her into a skilled assassin, enabling her to exact revenge on those who have wronged her family. However, as the story progresses, Arya's quest for vengeance evolves into a more nuanced exploration of her own identity and purpose. She begins to question the destructive nature of revenge, ultimately seeking a higher purpose beyond personal vendettas.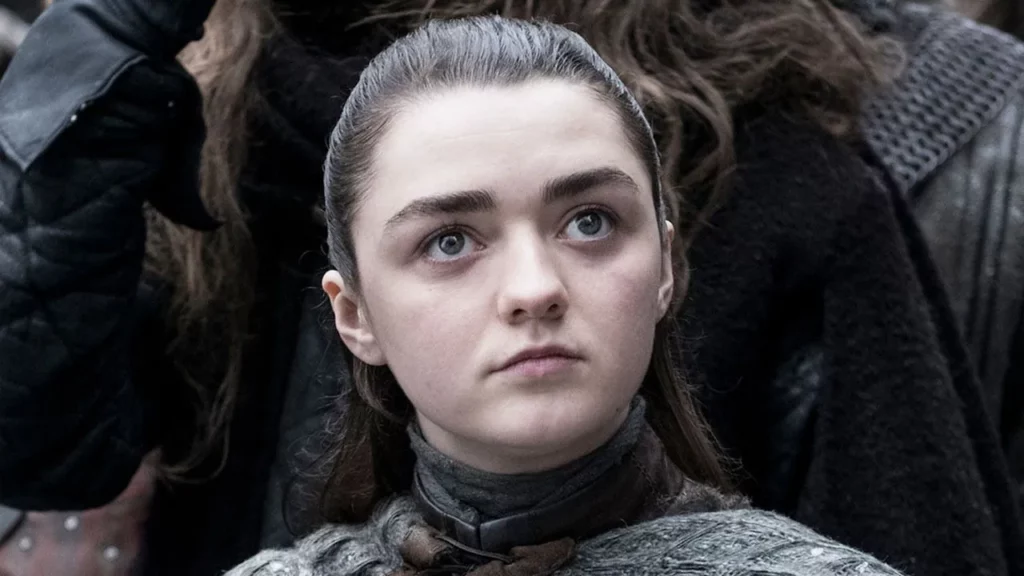 In addition to her physical prowess, Arya possesses a keen intellect and an innate ability to adapt to different situations. Her encounters with diverse cultures and characters allow her to gain a broader perspective on the world. Arya's travels take her to far-flung lands, where she encounters political intrigue, supernatural forces, and a diverse array of individuals who shape her understanding of power, morality, and the nature of humanity.
Arya's journey in Game of Thrones resonated with viewers due to her relatability and the underlying themes she represents. Her struggles for self-discovery, survival, and personal agency mirror the challenges faced by many individuals in the real world. Arya's character arc serves as a reminder that strength comes in various forms and societal expectations or gender norms should not confine that one's identity.
Arya Stark is a captivating character in Game of Thrones, whose growth and transformation throughout the series captivated audiences. Her unwavering determination, resilience, and defiance of societal norms make her a symbol of empowerment and inspiration. Arya's journey serves as a testament to the power of self-discovery and the indomitable spirit that can emerge from the most challenging circumstances. Learn more about Arya Stark.
Arya Stark Costume Guide
Arya Stark, the beloved character from Game of Thrones, has become an iconic figure in popular culture. Her strong-willed personality, fierce determination, and unique fashion sense make her an excellent choice for a Halloween or party costume. Dressing up as Arya Stark allows fans to pay homage to her character while showcasing their own individuality and style.
To create an authentic Arya Stark costume, it's important to capture her distinctive appearance and clothing choices. One of Arya's signature features is her tousled, short hair. If you don't have a similar haircut, consider using a wig or styling your own hair to mimic her messy, layered look.
When it comes to clothing, Arya's style reflects her practical nature and her experiences in a medieval-inspired world. Start with a simple, earth-toned tunic or dress as the foundation of the costume. Look for pieces that have a rugged and worn-out appearance, as Arya's journey has been one of struggle and survival.
Layering is key to achieving Arya's look. Add a leather vest or jerkin over the tunic for a touch of authenticity. Look for distressed or weathered fabrics to create a more realistic effect. Additionally, consider incorporating elements of armor, such as a faux leather pauldron or shoulder piece, to emulate Arya's warrior spirit.
For bottoms, opt for a pair of dark leggings or trousers that allow for ease of movement. Pair them with sturdy boots, preferably with a worn or distressed look, to complete the outfit. Arya often travels on foot and engages in physical activities, so comfort and practicality should be prioritized.
To accessorize the costume, pay attention to the details. Arya is often seen carrying her trusty sword, Needle, which has become an iconic symbol of her character. While it may not be practical to carry a real sword, you can find a toy or replica that resembles Needle to complete your Arya Stark ensemble.
Arya's costume wouldn't be complete without a few essential accessories. Consider adding a leather belt with a simple buckle, a pouch for carrying essentials, and fingerless gloves for a rugged touch. These small touches will help bring the costume to life and add depth to your portrayal of Arya.
Finally, to truly embody Arya Stark, don't forget about her fierce and determined attitude. Channel her spirit by adopting a confident and determined demeanor throughout your Halloween or party experience. Arya is known for her resilience and her refusal to back down, so embrace that mindset as you bring her character to life.
An Arya Stark costume for Halloween or parties is an excellent choice for fans of Game of Thrones. By focusing on capturing her unique style, including her tousled hair, layered clothing, and practical accessories, you can create an authentic and memorable costume. Remember to embrace Arya's strong-willed personality and determination to fully embody the character. Whether you're navigating Halloween festivities or a themed party, dressing up as Arya Stark is sure to turn heads and showcase your admiration for this fierce and beloved character.
Arya Stark Costume Ideas
We are sorry that this post was not useful for you!
Let us improve this post!
Tell us how we can improve this post?
Become a part of our vibrant community by sharing your unique costume image and inspire others with your creativity! Click Here