Last updated on January 7th, 2023 at 09:20 am
The Crow Costume Makeup Guide
Things you may need to do this makeup. Follow the steps from the video to get the exact The Crow look makeup.
The Crow is a 1994 American action thriller film, based on James O'Barr's 1989 cartoon of the same name. The film was adapted by David J. Schow and John Shirley and directed by Alex Proyas. In Crow, Brandon Lee will star in his final film as Eric Draven. Eric Draven is a rock musician who was resurrected to avenge his own murder and that of his fiancée.
The Crow Costume Ideas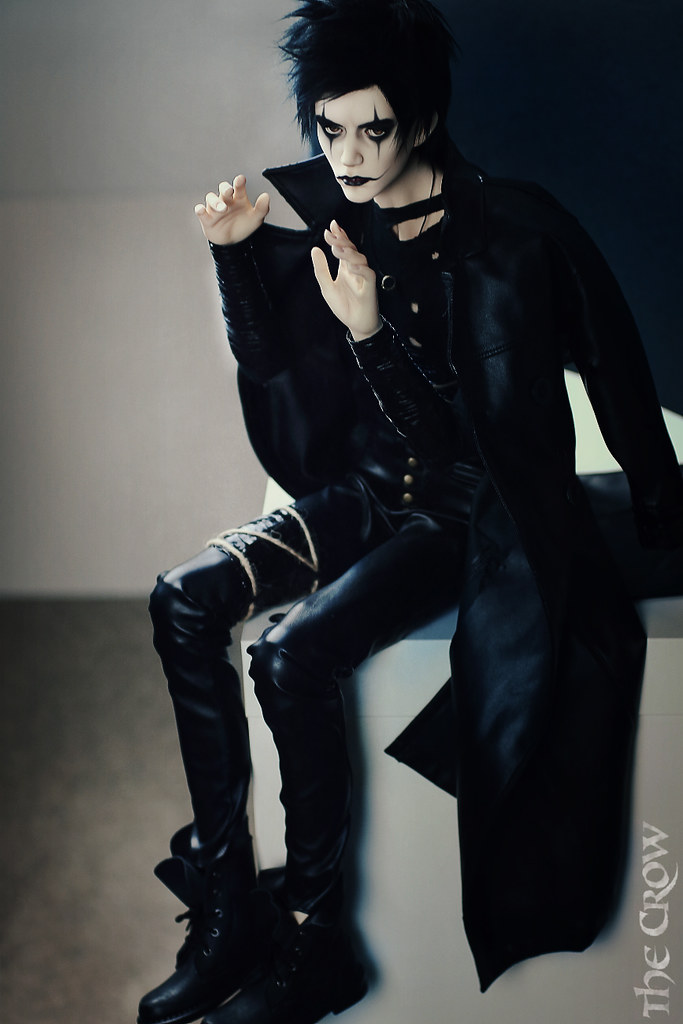 The Crow Costume Guide
People believed that when someone died, the crows took their souls to the land of the dead. But sometimes something bad happens with terrible sorrow, and the soul never rests. So sometimes, crows can regain their spirit to correct what is wrong.
The Crow was an amazing movie to watch and one of my favorite. Of course, the amazing film has to have an amazing costume. The Crow costume looks dark evil and full of vengeance. Brandon Lee's acting was outstanding but what made his acting in the movie more attractive is his costume.
The Crow costume consists of a Wig, a Shirt, leather pants, a leather coat, lots of black tapes around his stomach and on his hands, a pair of boots, a ring necklace, and of course some crows.
Wig: – Get the Wig that looks similar to the crow character.
Shirt: – Wear a long-sleeved black shirt. If you have an old shirt tear it and make some holes in it to look like an injured Superhero who fought the evil and came back. See the ideas above.
Leather Pant: – Get a leather pants similar to The Crow costume. Superhero always needs rough and tough clothes to fight evil and leather clothes don't wear and tear easily.
Leather Coat: – The coat make the costume more attractive and give a superhero-like feeling. (Although a leather coat can be expensive you can cosplay without the coat as well, see the costume ideas above).
Black Tape: – Get the big roll of black tape and wrap it around the stomach above the shirt and also around your hands similar to the character.
Shoes: – Get a pair of shoes similar to the costume (you can use your old ones also if it makes sense to wear them with this costume)
Necklace: – The Crow wears his engagement ring as a necklace to show his sorrow for his fiancee and the ring always makes him remember to revenge on the evils.
Crows: – Buy some fake real size crows and put them on your shoulder to show the crow as your pet bird.
About The Crow Costume
Based on a comic book by James O'Barr. In The Crow, Brandon Lee plays rock star Eric Draven, who returns from the grave exactly one year after he was killed to avenge the rape and death of his bride and the criminals responsible for his untimely death. The main plot of this supernatural thriller is a very simple poetic script, but full of dark romance, with little surprise and no real suspension, a great cast (Michael Wincott is remembered especially as the main villain Top Dollar) and a very stylish director. Alex Proyas. Make sure the movie is memorable. As a music video director, this project captures the aesthetics of comics, delivering stunning visual image streams with stunning and impressive cinematography, stunning lighting, stunning landscape design, and a soundtrack. The legendary martial arts legend, Bruce Lee's son, Brandon, offers a charismatic central scene and would have become a star if his life had not been tragically shortened by an accidental shooting in this film. The finished knight has a more tragic and scary experience.
Other related costumes: –
Harry Potter Three Headed Fluffy Dog Costume,
We are sorry that this post was not useful for you!
Let us improve this post!
Tell us how we can improve this post?